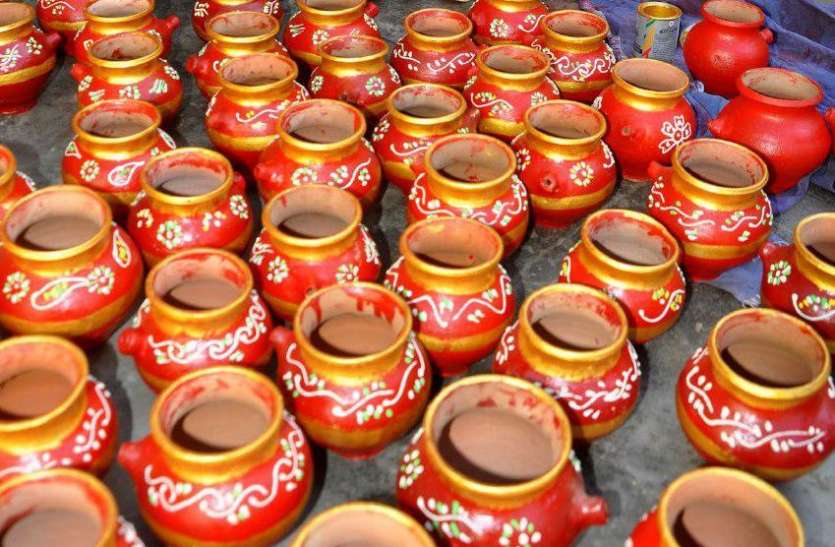 -The festival of Karva Chauth will be celebrated on October 24
After five years, special coincidence has been made on Karva Chauth
Barmer. With Karva Chauth approaching, women have started preparations. Shopping has also started in the markets. On this day, married women complete the fast by doing sixteen adornments and worshiping the moon.
Karva Chauth fast is observed on the Chaturthi of Krishna Paksha of Kartik month. The special thing this time is that after 5 years, again in the year 2021, auspicious yoga is being made on Karva Chauth. On this day worship will be done in Rohini Nakshatra. On the other hand, being a Sunday, you will get the blessings of the Sun God.
First women worship the sun god
According to astrologers, after five years, Karva Chauth is falling on Sunday. In the year 2017, this fast was observed on Sunday, October 8. This year, 24 October 2021 is also a Sunday. Sunday is dedicated to the Sun God. On the first day of Karva Chauth, women should worship the Sun God.
Moonrise will happen in Rohini Nakshatra
Moon will emerge in Rohini Nakshatra and Karva Chauth will be worshipped. The Chaturthi Tithi of Krishna Paksha will start at 3:1 am in the morning of 24 October, which will continue till 5:43 am the next day on October 25. The expected time of moonrise on this day is 8.11 pm. The best time for Karva Chauth worship will be from 6:55 pm to 8:51 pm on October 24.
fasting rituals
The married women who observe the fast, wake up before sunrise, drink water after completing their daily tasks and take a vow of a waterless fast while worshiping Lord Ganesha. After taking a resolution, it is forbidden to eat anything before moonrise. For the worship method, in the evening, get all the deities established on the earthen altar. Place incense, lamp, sandalwood, roli, vermilion in a plate and start the worship 45 minutes before moonrise time by lighting a ghee lamp. After this, complete the fast on moonrise.
Karwa
Karwa Chauth
Karwa Chauth wishes
karwa chauth shopping
karwa puja
Karwa
Karwa Chauth
Karwa Chauth wishes
karwa chauth shopping
karwa puja