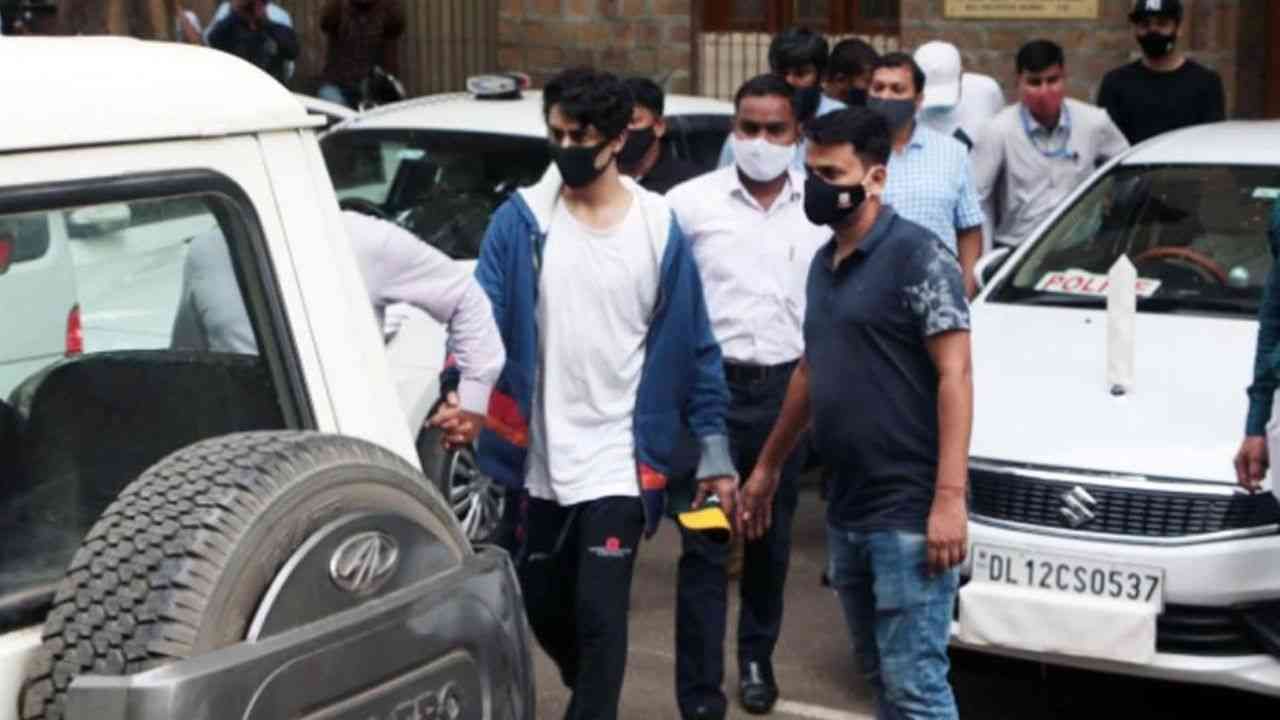 Mumbai : Actor Shah Rukh Khan's son Aryan Khan's troubles do not seem to be over yet. The court has reserved its decision on Aryan Khan's bail till October 20. Therefore, Aryan Khan will have to spend the next 6 days in jail. Aryan's bail will now be decided on October 20. Aryan Khan is currently in judicial custody in a drugs case. The court has reserved its decision on the hearing of the case.
Why is Aryan's bail now due on October 20?
The hearing on the bail applications of eight other accused, including Aryan Khan, began this morning. Arguments on both sides have been completed in this hearing. But the court has reserved its decision till October 20. Therefore, Aryan and other accused will remain in judicial custody. NCB's lawyers started arguing from one o'clock today. His argument continued even after the lunch break. Defendants' attorneys also argued. But the outcome of the case will be announced on October 20. The hearing has been postponed till October 20 due to Dussehra and other weekends. What is special is that the hearing on this case has been going on since yesterday. So there was talk that the other accused, including Aryan, would be relieved today. But now the accused will have to stay in jail for the next five days.
The arguments of the accused's lawyers yesterday, today of Anil Singh of the NCB
Both sides argued in court today. The court heard arguments from both sides. But no comment was given by the court on this argument. The court keeps a record of what the accused and the NCB's lawyers have to say. The result is then announced. But that is not the case today. Today only the two sides argued. This argument goes back a long way. Yesterday, Aryan Khan, Arbaaz Merchant and Moonmoon Dhamecha had argued. So NCB lawyer Anil Singh had very little time to argue. So, from one o'clock this afternoon, NCB lawyer Anil Singh was defending the NCB. Defendants' attorneys argued after they presented their case. After hearing arguments from both sides, the court made no comment on it. The court upheld the verdict and said it would be released on October 20.
What is the argument of NCB advocates?
"Aryan Khan and Arbaaz had taken drugs. There is solid evidence against Aryan and Arbaaz. Bail should not be granted as there is solid evidence against them. The accused in the drug party case are related to each other. There is also an international connection to this drug case. So extend the closet. Aryan, Arbaaz's inquiry will reveal a big cut, "said NCB lawyer Anil Singh.
What exactly is the argument of Aryan's lawyer Amit Desai?
Drugs peddler and Aryan Khan have nothing to do. If Aryan has nothing to do with drug peddlers, then what is the cut? This question was asked in court by Amit Desai, a lawyer representing Aryan. Drugs were found in the possession of drug peddler Abdul Qadir. NCB connects Abdul Qadir with Aryans. Arguing that Aryan's drug connection has not been revealed yet, he demanded bail.
How did Aryan Khan's stay in jail increase?
October 2 – Aryan Khan arrested, remanded in custody for one day
Aryan Khan and seven other accused were arrested in the Cruise Rev. Drugs Party case. These included Aryan's friend Arbaaz Merchant and model Moonmoon Dhamecha. He was produced before the court after his arrest. The court had initially remanded him in NCB custody for one day.
October 4 – Three days in NCB custody
Aryan Khan was produced before the court again on October 4 after completing his one-day remand. Aryan Khan and his accomplices were then remanded in NCB custody till October 7. During this period, the NCB had thoroughly investigated Aryan Khan.
October 7 – 14 days judicial custody
The court had on October 7 remanded Aryan Khan and seven other accused in custody for 14 days after the three-day NCB remand expired. Aryan Khan and NCB's lawyers were in the court this time. Aryan Khan was represented by Ad Maneshinde. The NCB was represented by ASG Anil Singh.
October 14 – Court upholds verdict
Today, October 14, Aryan Khan, Moonmoon Dhamecha and Arbaaz Merchant were produced before the NDPS Mumbai court. The court granted bail to the three accused. But the court upheld its decision.
And: Aryan Khan's stay in jail! The court upheld the verdict, ruling on October 20