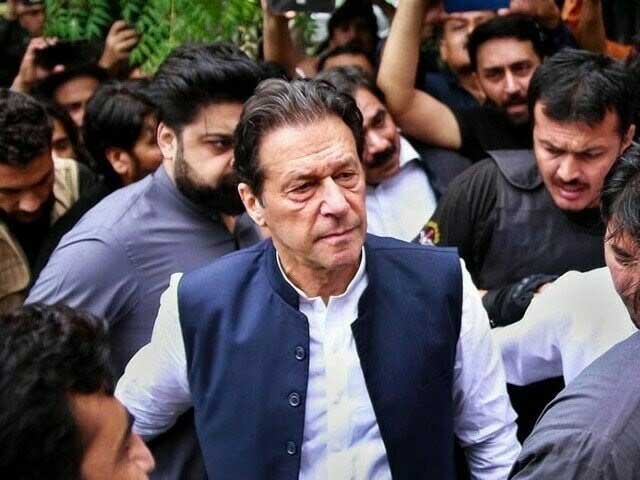 Observation Desk
ISLAMABAD: An accountability court in Islamabad on Monday issued an arrest warrant for deposed prime minister Imran Khan in two cases related to the Toshakhana gift warehouse and the ₹190 million deal with the UK's National Crime Agency.
The National Accountability Tribunal (NAB) requested compliance with the arrest warrants. The court accepted the request and directed the superintendent of Adiala jail, where the Pakistan Tehreek-e-Insaf chief is currently imprisoned in connection with the cipher case, to ensure the same under the law.
NAB deputy public prosecutor Sardar Muzaffar Abbasi, public prosecutor Irfan Bhola, investigating officers Mohsin, Waqarul Hasan, Mian Umar Nadeem and others appeared before accountability court judge Muhammad Bashir.
The court asked about the decision of the high court in this case.
In response, the NAB lawyer said that the case is still pending before the high court and the court has neither issued a restraining order nor a stay of execution. For this reason, he said that an arrest warrant should be issued and implemented for Imran.
The NAB prosecutor also said that the anti-corruption watchdog will produce the former prime minister before the responsible court after arresting him and seek physical remand. Stating that the law allows 24 hours of detention, the prosecutor added that if more detention is required, an application will be made to this court.
The official added that arrest warrants must be executed and then the case will proceed further.
Later, the court received the opinion of the special court established in accordance with the Official Secrets Law on the matter and was informed that the special court allowed the execution of the arrest warrants.
NAB maintained that the PTI chief should be arrested to complete the investigation into the cases.
The court accepted NAB's request and directed the prison superintendent to ensure that this request is fulfilled.
Separately, Bushra Bibi appeared before NAB in Islamabad to respond to summons in the case regarding the £190 million deal with the UK's National Crime Agency.
The NAB investigation team questioned the former prime minister's wife and gave her a questionnaire containing 11 questions.
The deposed prime minister and others allegedly arranged for Rs50bn (£190m at the time) to be sent to the Pakistani government by Britain's NCA.
They are also accused of taking unfair advantage of more than 458 kanals of land in Mouza Bakrala in Sohawa to establish Al Qadeer University.
news source (thefinancialdaily.com)