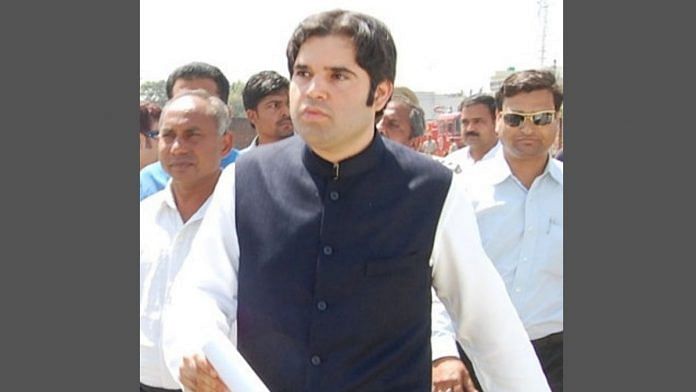 Text Size:


New Delhi: Bharatiya Janata Party (BJP) MP Varun Gandhi on Thursday posted a short clip of former Prime Minister Atal Bihari Vajpayee's 1980 speech on Twitter, in which Vajpayee extended his support to farmers and called on the then Indira Gandhi government against their repression. was warned.
Gandhi tweeted, 'Wise words from a leader with a big heart…'
Wise words from a big-hearted leader… pic.twitter.com/xlRtznjFAx

– Varun Gandhi (@varungandhi80) October 14, 2021
BJP MP Gandhi is vocally supporting the farmers agitating against the three agricultural laws of the Modi government. His tweet containing Vajpayee's speech is being seen as his message to the central government.
In the video clip, Vajpayee can be heard telling a gathering that farmers cannot be intimidated.
Good journalism matters, even more so in times of crisis
ThePrint brings you the stories you should read, from where they're happening
We can only keep this going if you support us with our reporting, writing and photos.
subscribe now
In the clip, Vajpayee says, "If the government suppresses (farmers), abuses laws and suppresses peaceful agitation, we will not hesitate to join the farmers' struggle and stand with them."
Gandhi has demanded strict action against those responsible for the deaths of four farmers in Uttar Pradesh's Lakhimpur Kheri, who were rammed into cars allegedly belonging to BJP leaders. Gandhi was recently removed from the BJP's national executive. This was seen as the displeasure of the party leadership with Gandhi.
---
Read also: Why did I meet the family of BJP worker killed in Lakhimpur Kheri: Yogendra Yadav
---
Good journalism matters, even more so in times of crisis
Why the news media is in crisis and how can you handle it
You are reading this because you value good, intelligent and fair journalism. We thank you for this belief.
You also know that an unprecedented crisis has arisen in front of the news media. You will also be aware of the news of heavy salary cuts and layoffs in the media. There are many reasons behind the collapse of the media. But a big reason is that good readers are not understanding the right value of good journalism.
There is no dearth of qualified reporters in our newsroom. We have one of the best editing and fact checking teams in the country, as well as a team of renowned news photographers and video journalists. It is our endeavor to make India's best news platform. We are working hard in this effort.
ThePrint believes in good journalists. Gives right salary for their hard work. And you must have seen that we do not hesitate to spend as much as we can to get our journalists to the story. All this costs a lot. There is only one way for us to continue this good quality journalism – enlightened readers like you to read this with a little heart and a small wallet.
If you feel that we deserve your support for a fair, independent, courageous and question-asking journalism, click the link below. Your love will decide the future of ThePrint.
Shekhar Gupta
Founder and Editor-in-Chief
subscribe now