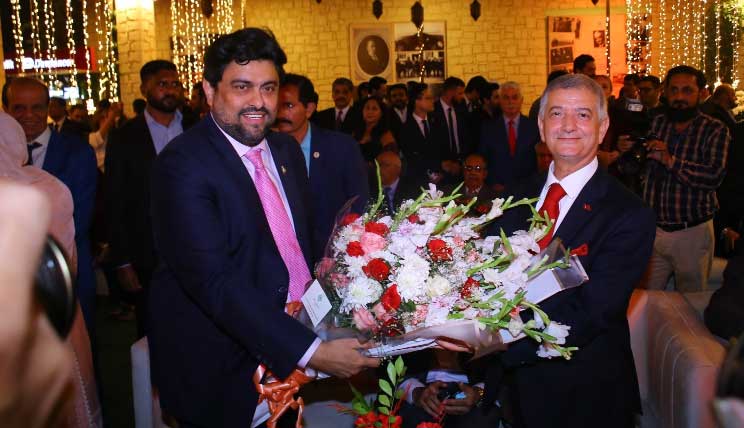 Zahid H. Karani
KARACHI: A colorful Turkey Century celebration reception hosted by the Consul General of the Republic in Karachi, Cemal Sangu and his beautiful wife. The Consulate building was tastefully decorated to celebrate the Centennial Celebration and the guest lists were very long because all the roads around the Consulate were clogged with vehicles; There were long queues of guests inside the consulate, where every guest wanted to congratulate this auspicious host and hostess. Turkey's 100th anniversary events.
Who were there Kamran Khan Tessori, Governor of Sindh, Justice (R) Maqbool Baqir Jafri, Agha Siraj Durrani, many watchmen Pakistani Senior Actor Javed Shaikh, Turkish Artagul Actor Abdurahman, senior government and armed forces officials businessmen, industrialists, many living in the city many Turkish citizens, the city's elite and journalists.
THY and Dawlance stands were there with plenty of gifts. Pegasus and THY gave away many round-trip tickets, a group of Turkish Dervishes performed, the Pakistan Navy Band played Turkey and sang the Pakistan National Anthem.
At the event, a cake was cut and delicious Turkish, Pakistani and European dishes were served to the host along with the VIP group. In his speech, Consul General Mr. Cemal Sangu said that we came together here with the spirit of love, unity and solidarity and celebrated our 19th anniversary. An important milestone in the history of the Republic of Turkey – the 100th anniversary of its founding.
This momentous event is a testament to the enduring strength, resilience and love that has defined our great nation for a century.
The Turkish ambassador said that the story of the Republic of Turkey is remarkable. It is a story of courage and determination, rising from the ashes of the Ottoman Empire and paving the way for a brighter future. Mustafa Kemal Atatürk, the founding father of this great nation, envisioned a secular, democratic and modern society.
and his vision shaped the course of history.
At this turning point of our glorious history, I commemorate all our heroes who pioneered the establishment of our new state, especially the founder of our Republic, Gazi Mustafa Kemal Atatürk, and pray for God's mercy.
The Consul General said that Turkey has been the symbol of power, unity and progress for a century and has become a bridge between East and West, North and South. A nation that embraces its diverse cultural heritage as it advances in science, technology and innovation. He said proudly that today's Turkey is a testament to the resilient spirit of its people.
Over the past century, Turkey has faced countless challenges and obstacles, but what has brought us to this success is our people's love for this land, for freedom, for democracy and for each other. A love that transcends borders, languages ​​and cultures. This love fueled our progress, turning Turkey into a beacon of hope, a symbol of what a nation can achieve when united with unwavering dedication.
Sangu said that today's celebration is not only an event specific to Turkey, but also a celebration of the enduring friendship and brotherhood between Turkey and Pakistan. This is a reaffirmation of our common commitment to peace, cooperation and prosperity.
He said that when we look at the past 100 years, we should also look at the next century with hope, optimism and determination. Turkey and Pakistan are two countries that have come a long way for centuries, but they are one nation and together we can reach much greater heights. I hope that the friendship and brotherhood between our two nations will continue to develop in the coming years.
Finally, on the 100th anniversary of the Republic of Turkey, let us remember that love is the cornerstone of our nation. Love for our land, love for our people, love for the ideals that shape our destiny. With this lasting love, we will continue to move towards a brighter, more prosperous future.
Cemal Sangu thanked all our friends, guests and brothers who were here with us today and shared our joy of celebration.
news source (thefinancialdaily.com)