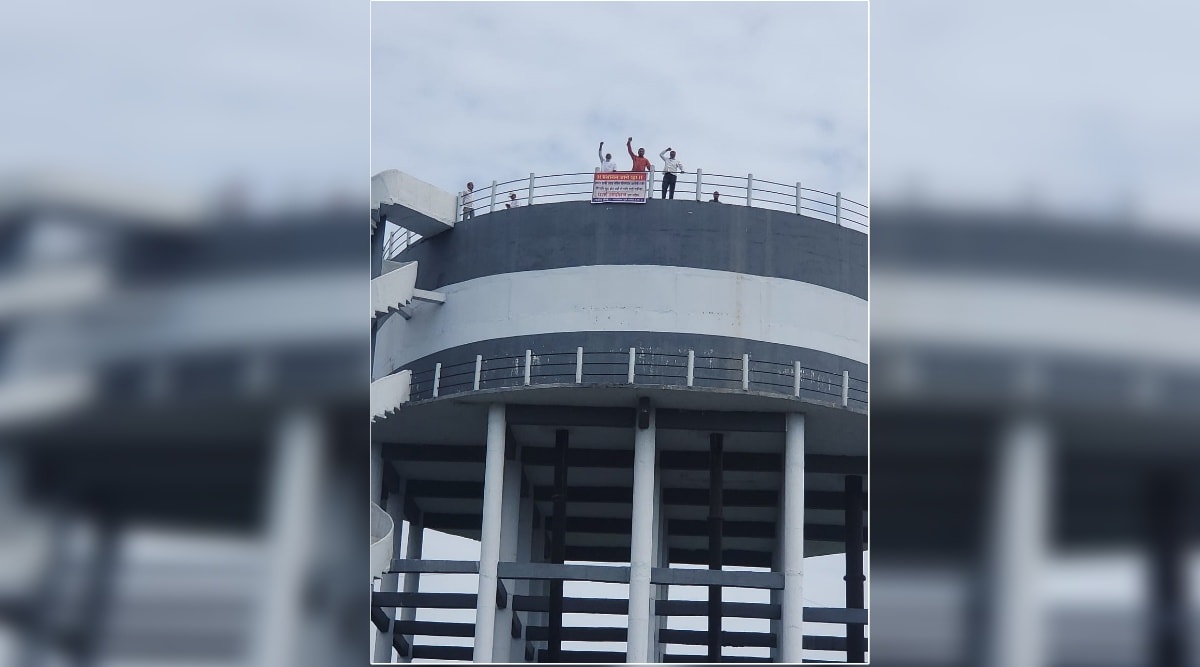 The problem of water supply in Dhule city has become serious once again and taps have not received water for 12 days in Lala Sardar Nagar, Ekvira Devi Temple area of ​​Devpur. To draw attention to this issue on Saturday Ward no. Saeed Beg Hasham Beg, a MIM corporator of Thien, climbed the New Watershed along with workers and protested. The agitation was withdrawn after the municipal administration gave a written promise to start the Jalakumbh within three days.
Also Read- Compensation To Farmers Under 'Pradhan Mantri Crop Insurance Scheme'; Simply contact this number
There is no tap water in the ward for 12 days
Drinking water problem has become serious in Lala Sardar Nagar, Ekvira Devi Mandir Road area of ​​Devpur. This area is densely populated. Citizens have to wander for drinking water. Some areas get water, some don't. This problem has been faced for many days. Saeed Beg Hasham Beg, a corporator in the Municipal Corporation, gave several statements earlier. A letter has also been given in the September 5 General Assembly. It has been two years since the construction of new water bodies in this area. New aquifers are ready but not used. It is said by Municipal Engineers that minor repair works are left in this water body. Jalakumbh is not started even after giving instructions by MLAs. Councilor Baig said that there has been no tap water in the ward for 12 days, so they have to climb the water tank and protest.
Also Read- Declare wet drought and compensate farmers; Movement of Mahavikas Aghadi in Malegaon
Ignorance of citizens' problems by administration and rulers
If the new Jalakumbha is started, the water problem in Prabhat Nagar, Gulab Haji Nagar, Madani Nagar, Gausia Nagar, Vitabhatti, Durga Devi Temple area, Aisha Nagar, Lala Sardar Nagar, Mohammadi Nagar, Ekviradevi Temple area, Bhai Madane Nagar, Panchvati etc. will be solved forever. . However, the citizens expressed their anger that the municipal administration and the rulers were ignoring them. While corporator Baig stopped the water tank, others stood near the water tank and started raising slogans. Filming a mobile phone camera video from the water tank itself, Baig warned that he would not descend until a new water tank was opened. He also announced that if these warnings are not heeded, he will take off his clothes and throw them naked on the water body.
Also Read- Nashik: Foamy water in river near fuel plant; Potential impact on agricultural crops
Movement withdrawn after written assurance
After getting the information about corporator Baig's agitation, the administration started running. Police and municipal authorities reached Navrang Jalakumbh. Municipal Engineer Kailas Shinde tried to make him understand by discussing with the corporator Baig over the phone. But Baig continued to insist on starting the Jalakumbh. Beg and the activists descended from the watershed after Engineer Shinde gave a written promise to start the watershed within three days.
.