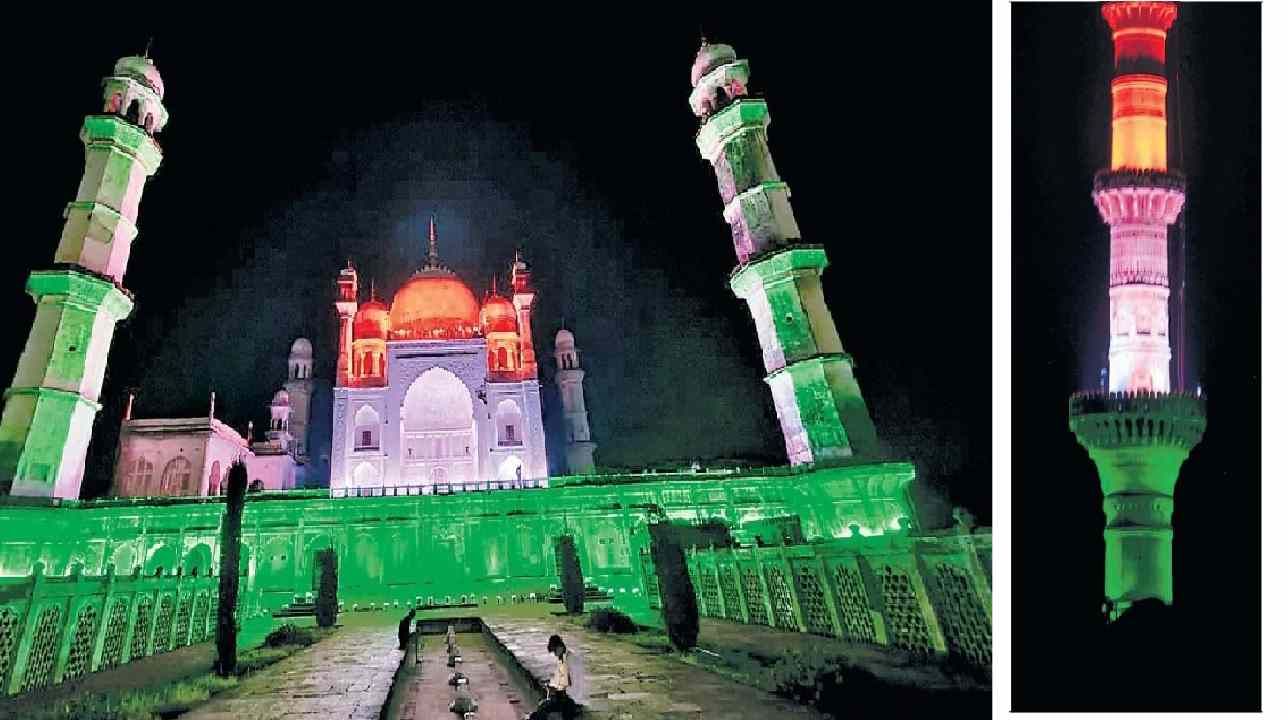 Bibi Ka Maqbara in Aurangabad and beautiful electricity on the minaret in Daulatabad
Aurangabad: Corona vaccination has gained momentum across the country, including the state (Corona Vaccination). Corona vaccine has been given to 100 crore people in the country. On this occasion, about 100 ancient historical monuments (Aurangabad Historical Monuments) across the country will be electrified. Due to this, the architecture in Aurangabad, which is world famous for its historical architecture, has also come to light. The Archaeological Department has installed colorful electric lighting on historical buildings in the city.
Open to the public from Thursday
The triumph of 100 crore citizens of the country is also being celebrated in Aurangabad. The national flag has been hoisted at Bibi Ka Maqbara near Aurangabad Central Archaeological Department, Daulatabad Fort and Salabat Khan Ka Maqbara at Ahmednagar. The lighting has been open to the public since Thursday.
Only 18 per cent of the citizens in the district have two doses
Meanwhile, it came to the notice of the Zilla Parishad Standing Committee on Wednesday that only 50 per cent of the citizens in Aurangabad district had taken the first dose of the covid vaccine and 18 per cent had taken both the doses. Abundant stocks of vaccines are currently available from the Department of Health. Therefore, under the Mission Kavach Kundal run by the state government, emphasis has been laid on vaccinating every citizen above 18 years of age, informed Zilla Parishad Chief Executive Officer Nilesh Gatne.
Cold response from citizens in rural areas
Currently, people over the age of 18 are required to be vaccinated against covid. The second vaccine can be given 84 days after the first dose. Despite this, people in rural areas seem to have turned their backs on vaccination. "Given the number of health workers and doctors available, 20,000 people in the district can be vaccinated every day," said Gatne, chief executive officer. However, citizens need to come forward to get this vaccination done.
21 patients in the district of Corona on Wednesday
In Aurangabad district, 21 new corona patients were found on Wednesday. This includes five in urban areas and 16 in rural areas. One patient died during the day. Also 15 discharged people (city 5, rural 10) were discharged. So far, the total number of patients has reached 1 lakh 48 thousand 925. Out of which 1 lakh 45 thousand 173 people have recovered and gone home. The death toll has risen to 3592. Currently 160 people are undergoing treatment.
Other news
Plan vaccinations at the village level; Order of the District Collector of Nashik