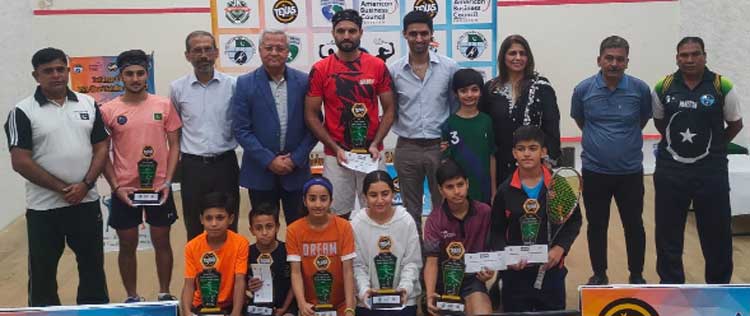 Sahrish Ali in Girls, Sohail Adnan in Under 13 Boys and
M. Saim became the champion in the Under 9 category; There are over 140 participants
Sportscaster
KARACHI: Khyber Pakhtunkhwa's Saddam ul Haque won the PSA Satellite Men's Singles event in the second Texas Chicken Open Squash Championship. While top seed Abdullah Navaz was defeated in the final, Sahriş Ali became the champion in the Under 15 Girls category.
The finals of all categories were played at PSF Jahangir Khan Squash Complex, Karachi. Squash Director Sindh Mustafa Kamal, Sindh Squash Association Secretary Muhammad Amir and other officials were present on the occasion of the final matches.
At the closing ceremony, Babar Asad was sponsored by chief guest Texas Chicken Shehzada, who distributed trophies and cash prizes to the winning players. In the men's singles final, top seed Abdullah Nawaz and Saddam ul Haq had a tough fight.
Abdullah Nawaz, who won the first match, lost the next two matches, but after a tough fight, he won the fourth game and won the match 2-2, but Saddam won the fifth and decisive match and won the championship.
Saddam-ul-Haq's match score was 6-11, 11-2, 11-5, 8-11 and 11-5. In the girls category, Sahrish Ali won the title by easily defeating the number 6 seed Damia Khan from Sindh with sets of 11-2, 11-4 and 11-3.
In the men's U-13 final, number 3 seed Sohail Adnan from Punjab defeated M. Bin Atif from Punjab, number 4, in 20 minutes and won with sets of 11-2, 11-1 and 11-7 after an easy fight. .
In the Boys Under-9 final, Sindh's M Saim defeated the number 9 seed Abahan Khan of Sindh with sets of 11-3, 11-2 and 11-2 in just 15 minutes. More than 140 players from across the country participated in the event.
news source (thefinancialdaily.com)