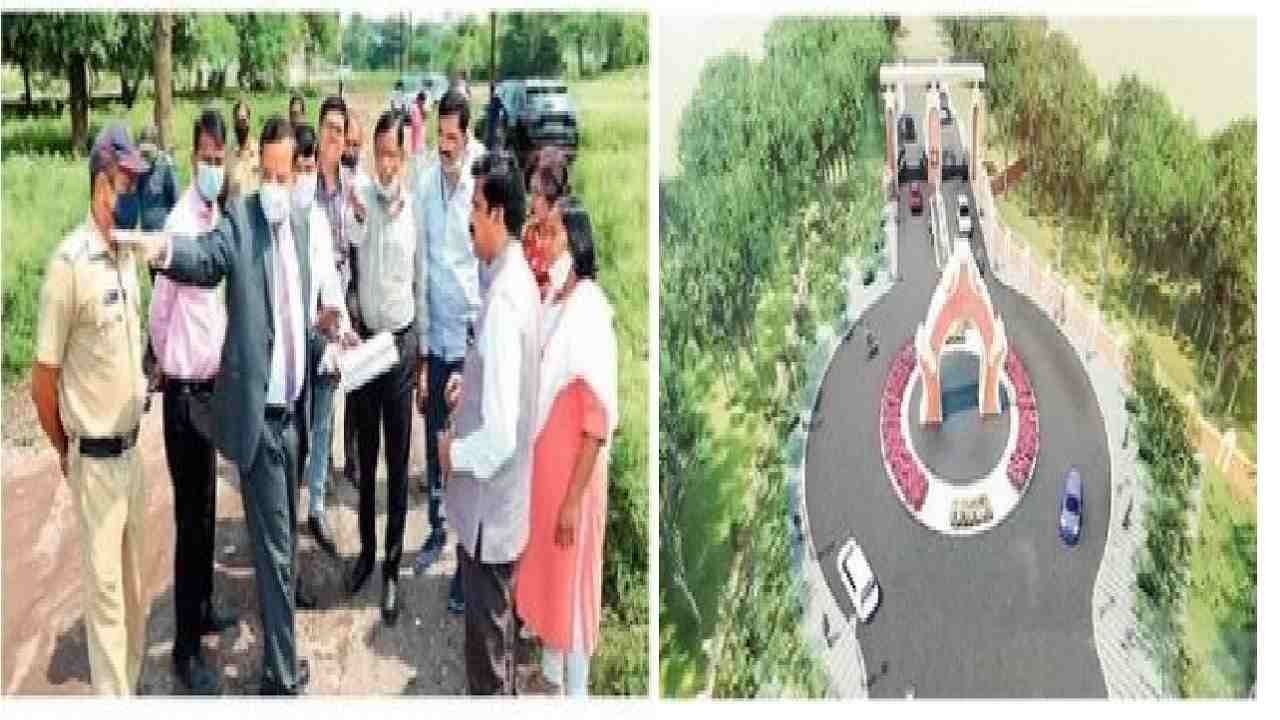 Vice Chancellor and committee members discussing the proposed changes, as well as a view of the proposed gate in another photograph
Gabad: Dr. The beautification work of the entrance of Dr. Babasaheb Ambedkar Marathwada University will start soon. The construction of in-out gate at the university will also be expedited. In addition, a site was recently inspected for a martyr's memorial in the open space of the university. Vice Chancellor Dr. Members of the memorial committee along with Dr. Pramod Yewle visited the proposed project site in Aurangabad on Wednesday.
Decoration on the lines of India Gate
Dr. Babasaheb Ambedkar Marathwada University has a historical heritage. The gate of the university is also historic and its conservation and beautification work has been undertaken by the university. The university gate will be beautified on the lines of India Gate in Delhi. It was recently presented to the Guardian Minister Subhash Desai that about Rs 2 crore would be spent for this project. The project was presented by the Vice-Chancellor himself. He had also demanded that funds should be obtained from the fund for SmartCity.
In-out gate for the university
According to the new proposal, the road will be paved on both sides of the historic university gate. The gate will also be beautified. An in-out gate has been proposed to control incoming and outgoing students at the university. There will also be a water fountain in front of these gates. So it is hoped that this beautification will also attract tourists.
Two encroachments on the planned site of the monument
Meanwhile, there are two encroachments on the planned site of the renamed Martyrs Memorial. Apart from that, there is no encroachment on the university land anywhere, the vice-chancellor said. The Sports Authority of India (SAI), Yashwantrao Chavan Hostel, National Institute of Electronics and Information Technology, Aurangabad and other institutions which have been allotted lands by the university are not being utilized and will be taken back if there is any surplus land, the vice-chancellor said. If Sai wants to count the land, he should calculate the total 725 acres of land of the university, he should also pay for it, he said, adding that the university will no longer give land to any institution.
Other news-
Survey of hawkers in Aurangabad city started, Municipal Corporation will implement hawkers zone policy