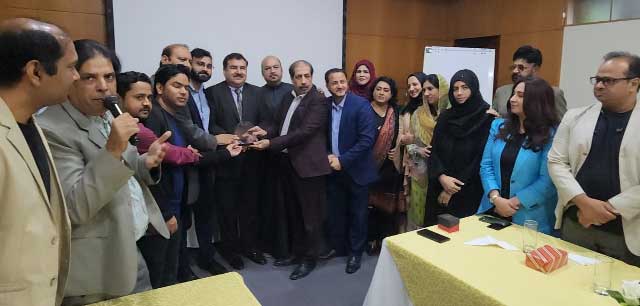 Special Correspondent
DUBAI (UAE): A ceremonial dinner was organized by veteran lawyer Makhdoom Raees Kureshi Advocate at a local hotel in Dubai to honor the newly elected officials and members of the UAE. The valuable guest of the event was Salim Sultan, Passport Consul of the Pakistan Consulate in Dubai.
During the meeting, Makhdoom Raees Kureshi stated that EMRA members are determined to solve the problems faced by Pakistanis abroad and also strive against any negative propaganda at the international level against their beloved country and the Muslim community.
Speakers congratulated Emra BAE members and expressed their good wishes. As part of the event, host Makhdoom Raees Qureshi presented gifts and honor shields to both the EMRA team and the guests.
Besides Emra UAE team, People's Party Gulf and Middle East chairman Mian Munir Hans, Nisar Malik, Syed Mukhtar, Zeeshan Ahmed from Pakistan International Airlines Dubai, Lawyer Ali Rais, prominent names from Pakistani business community also graced the occasion. Izzat Ali, Syed Muhammad Ali, Makhdoom Naveed, Muhammad Rafiq Manzoor, Muhammad Qasim Abbas, Manzoor Bhatti and others.
news source (thefinancialdaily.com)