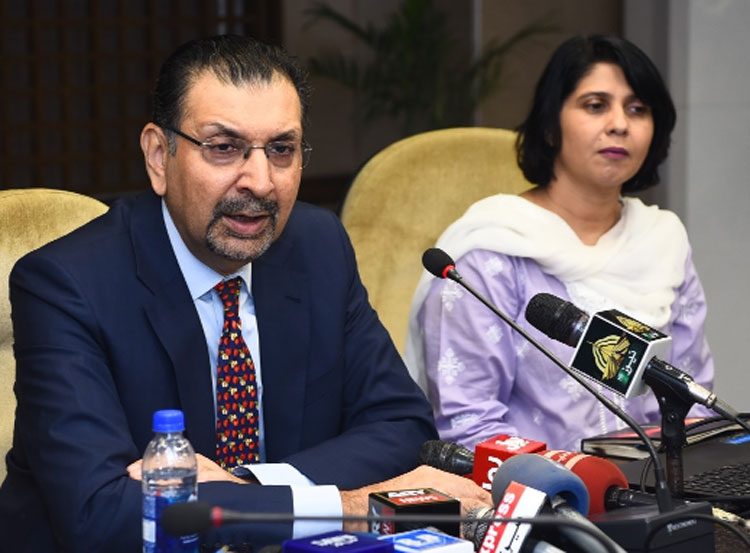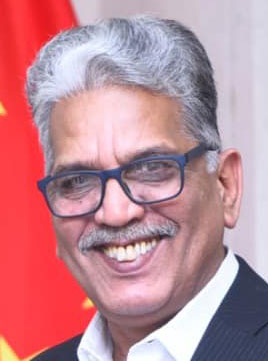 Revolutionizing financial services: PSX introduces 'Online Broker' model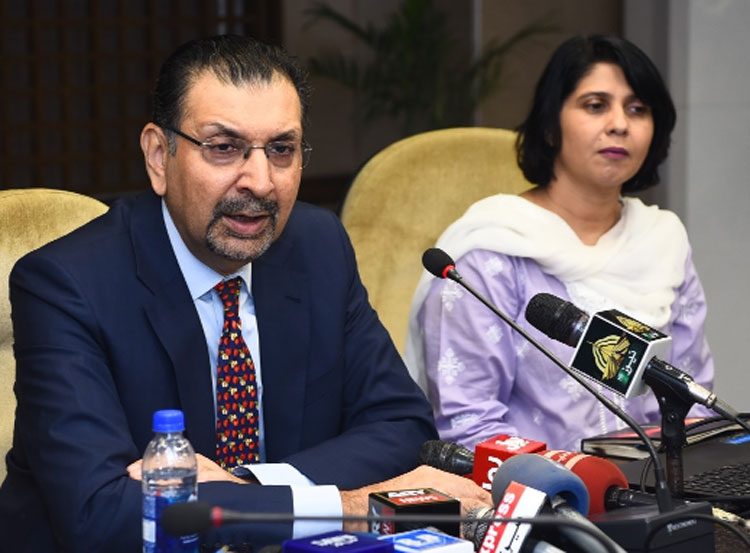 Pakistan Stock Exchange (PSX) Managing Director Farrukh A. Khan and PSX Head of Communications Raeda Latif hosted a breakfast meeting at PSX's boardroom during the reported week to which they invited seniors from the journalist community. Briefing on "Online Broker Only". This meeting served as a platform to unveil the groundbreaking nature of the Online Only Broker model and highlight its masterful use of technology to reshape the brokerage landscape. This inherently forward-looking approach not only streamlines processes but also offers a cost-effective method for market participation, marking a significant leap forward in financial services.
At the PSX officials' briefing on "Online Only Broker" on Thursday, the KEC 100 Index crossed the 57,000 mark in trading activities. Participants and media representatives congratulated Farrukh and Raeda on their achievement. In contrast, the positive reaction of the market was attributed to the economic policies and reforms implemented by the interim government.
Elaborating further on the discussion on the Online Only Broker model during the briefing, Farrukh Khan highlighted its importance in the rapidly evolving financial markets. These brokers, distinguished by their fully digitalized platforms, represent a paradigm shift in the provision of brokerage opportunities. Online Only Brokers work exclusively through digital platforms, eliminating the need for physical offices, head offices or branches, contributing to a more focused market approach. Notably, these brokers enjoy exemption from the statutory requirement of audit by an Auditor of category 'A' or 'B' as specified by the Panel of Auditors of the State Bank of Pakistan (SBP).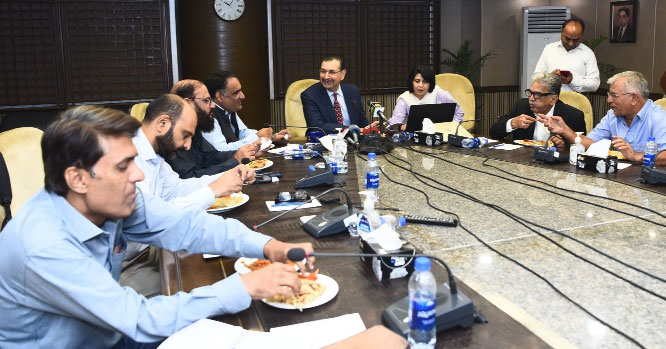 Farrukh highlights that clients interact with Online Only Brokers only through designated online channels, covering various aspects such as account initiation, trading activities and reporting. Trading procedures are executed seamlessly without human intervention, adhering to the conditions set out in Chapter 9 of the PSX Rulebook. Additionally, Online Only Brokers have the flexibility to establish a Customer Facilitation Center (CFC) in accordance with the guidelines set forth in Chapter 22A of the PSX Rulebook. Notably, they are exempt from Client Asset Separation reporting, which is a mandatory requirement for other categories of brokers on both a bi-weekly and annual basis.
As the financial landscape undergoes constant transformation, the Online Only Broker model is emerging as a disruptive force representing efficiency, technological capability and adaptability. Ongoing reforms and policies contribute to the positive market sentiment, laying the foundation for a new era in financial services.
MD PSX has outlined the prerequisites for Online Only Brokers, highlighting the requirement to obtain a license from the Securities and Exchange Commission of Pakistan (SECP) and Trading Rights Entitlement Certificate (TRE) from PSX. Additionally, these brokers are required to designate a Clearing Member by choosing between a PCM and the Terms and Conditions, and are restricted from participating in private trading activities. Maintaining a robust systems infrastructure, which includes a functional website, internal control procedures and technology supporting Internet Based Commerce Services (IBTS), is vital to their operational efficiency. Adherence to well-defined procedures for client access to IBTS, covering important aspects such as transaction limits, order placement and execution, transaction confirmation reporting, margin requirements and margin calls, are deemed required under Chapter 9 of the PSX Rulebook.
In terms of financial aspects, Online Only Brokers are subject to a one-time PSX Trading Rights Entitlement (TRE) Certificate fee of R1.25 million. They are required to maintain a minimum net worth of Rs 7.50 million consistent with the Basic Minimum Capital (BMC) of Rs 1 million invested in PSX. SECP's license fees are Rs 50,000 and annual renewal fee is Rs 25,000. Details of trading and IT fees can be found in the Standard Fees Table on the PSX website.
During discussions with the senior media community, PSX management underlined that the ongoing Investor Awareness initiatives and the introduction of innovative dimensions such as Online Only Brokers in exchange trading will significantly contribute to increasing investors' confidence. This is expected to encourage increased trading volumes and support the continued growth of the capital market.

news source (thefinancialdaily.com)