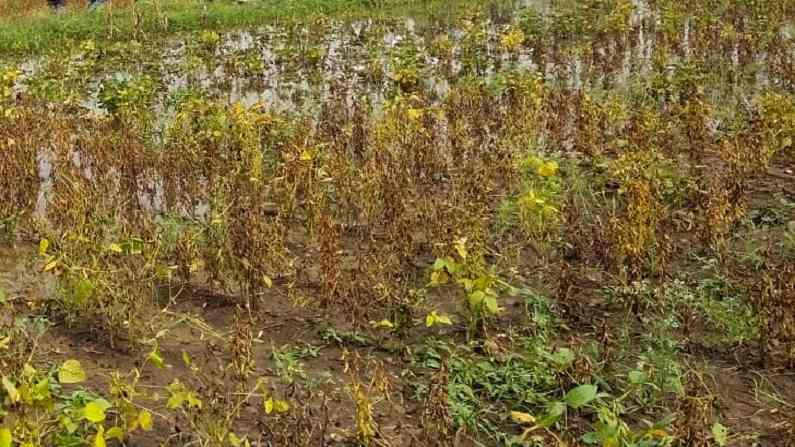 Crop Damaged
Latur: The state government has announced Rs 10,000 crore as compensation for heavy rains and heavy rains. (Kharif Hangam) However, there is a big difference between the actual damage and the demand made by the local administration. In Marathwada, 36 lakh 72 thousand hectares of crops were damaged due to rains in September. Accordingly, the divisional administration had submitted a compensation report of Rs 2,585 crore. Therefore, we have to see how much money comes to Marathwada out of Rs 10,000 crore.
Farmers in Marathwada were hit hardest by heavy rains and incessant rains. Kharif soybean and urad were the main crops during the rainy season. So the harvested soybeans are still in the water. The kharif season is important for farmers in Marathwada in terms of production. A panchnama is being held on behalf of the administration after the rains caused damage. The damage area has increased by more than 33 per cent as per NDRF norms.
Officials said the conclusion was reached due to heavy rainfall. The package has already been announced by the state government with the help of NDRF. As per the current situation, crops on 36 lakh 52 thousand hectares have been damaged, while Rs 2,585 crore is required to compensate the farmers in Marathwada, it has been reported from the divisional level.
What is the position of Marathwada by division?
The rains have damaged kharif crops. Accordingly, the state government on Wednesday announced a package of Rs 10,000 crore. However, farmers in Marathwada have suffered more. 6,000 crore is required to cover the losses of eight districts in this division. However, Rs 10,000 crore has been declared for the entire state and now it remains to be seen how much will go to Marathwada. It is unknown at this time what he will do after leaving the post.
80 percent crop damage
The rains between September 7 and October 8 caused severe damage to kharif crops. 1 thousand 83 mm of rain fell during this period. Therefore, soybean, tur and urad were in the water. As much as 80 per cent of the crops were damaged due to heavy rains. There were incidents in Marathwada where not only crops but also agricultural lands were eroded.
10,000 crore package without waiting for NDRF norms
Chief Minister Uddhav Thackeray, Deputy Chief Minister Ajit Pawar and Public Works Minister Ashok Chavan announced in the cabinet meeting that Rs 10,000 crore would be provided for flood victims. The state received heavy rains from June to October 2021 and floods damaged more than 55 lakh hectares of crops. Today, we have decided to announce a package of Rs 10,000 crore to the farmers affected by this natural calamity without waiting for the NDRF norms, the Chief Minister announced. (Announcement of compensation, highest loss to farmers in Marathwada, increased expectations of farmers)
Related news:
Take care not to get electrocuted… Important news for every farmer
Compensation to farmers in Osmanabad district
The wait is over ..! It will be collected on this date. Funds of Kisan Sanman Yojana on your account