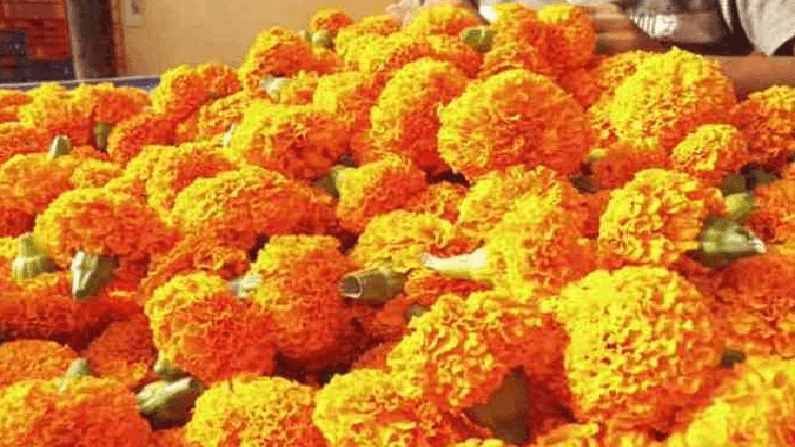 archived photographs
Mumbai : Due to the vagaries of nature, the entire kharif season is still in the water. This season is important in terms of production but this year the rains have disappointed the farmers. However, the crops planted as a side business have brought relief to the farmers. The marigold flower market has been booming since the temples opened last week. Due to the Dussehra festival tomorrow, the demand for marigold flowers is increasing. Marigold flowers have a special significance in Dussehra festival. Income is low and now demand is getting better. The wholesale price is Rs 40-60 per kg while the retail price is Rs 80-130 per kg.
Everything is in the water this year due to heavy rains. As a result, the economic loss of the farmers has been huge. Moreover, agricultural commodities do not fetch prices in the market. So the farmer is in a double whammy. Marigold growers have been relieved in such adverse conditions. Because marigold flowers have a special significance in Dussehra festival.
Marigold flowers are used for home decoration, brought for worship. Due to the huge demand for apatya leaves along with marigold flowers for Dussehra festival, the demand for artificial flowers including marigold and shewanti has also increased in the APMC market area in Navi Mumbai and a large crowd of customers is being witnessed. The situation is similar in other cities.
Rain also affects production
The rains have affected marigold production in the same way as other crops. This is because the rains have damaged the marigold flowers. However, the income has remained the same. Traders are saying that due to heavy rains in Marathwada, the income from that area has decreased. However, due to the festive atmosphere, consumers are buying marigold flowers at affordable prices.
Flowers from this area
Customers are flocking to the APMC market in Mumbai to buy marigold flowers. Consumer enthusiasm remains high despite the rise in marigold prices. Marigold has arrived in the Mumbai market from Pune district, Satara, Solapur, Aurangabad, Nanded and Junnar areas. Flowers are booming as all other flowers, including marigolds, are in demand.
What are the rates of flowers
Due to Dussehra, marigold flowers are in demand. In the wholesale market, marigold is being sold at Rs 40-60 per kg, while in the retail market, it is being priced at Rs 80-130. So the picture is that the middle class between the consumer and the farmer is benefiting more than the farmer. Gulchhadi 120-200, Bijli 50-100, Shevanti 80-150, Jui 100-1500, Jasmine 1300, Gerbera 20-40, Carnation – 80-150 (Demand for marigold flower due to festival, prices increase, farmers relieved)
Related news:
The threshing of kharif crops has started..then take this precaution…!
End of food agitation, struggle against injustice against farmers will continue: b. Patil
Tears of joy in the eyes of farmers due to onions, but not in the eyes of consumers ..!