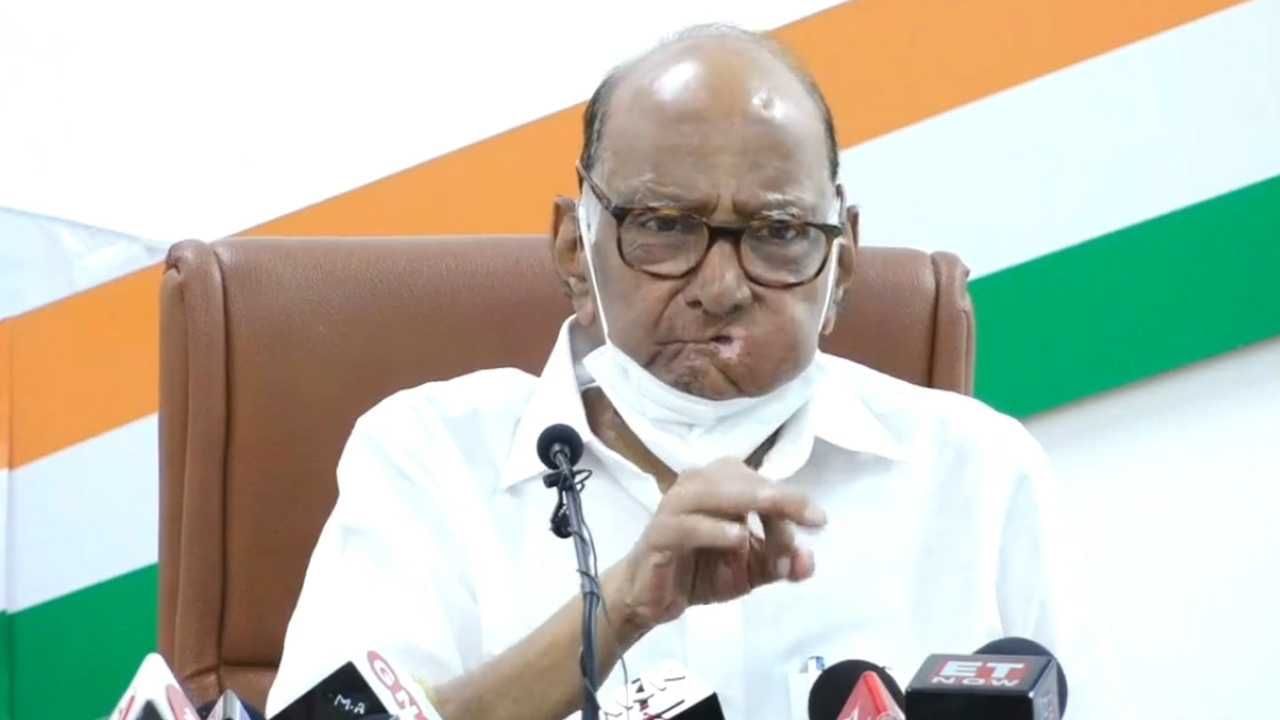 sharad pawar
Mumbai: NCP's Sarvesarva Sharad Pawar for the first time commented on the line taken by the Income Tax Department against the Pawar family. The guests had come. Stayed six days. Guests should come. Be hospitable. But we should not be so hospitable as to cause indigestion, said Sharad Pawar.
Sharad Pawar took a press conference and strongly attacked the action of the Income Tax Department. The guest used the word well done. I coined this word. I will speak but I will speak when they are questioned. The facts will tell. That inquiry is ongoing. Got some information from some officials at the center. Guests come. Come in many places. One day, two days, three days,
Today is the sixth day. Hospitality should be taken, but hospitality should not be so indigestible, said Pawar.
There were instructions not to leave the house
He remembered the girls in my house. These three girls don't have a factory. Is in a publication. There is a doctor. The third is the housewife. They have nothing to do with it. Well, I went there and inquired. Inquired in a day and a half. They too were in a hurry to leave. But they were getting similar calls. It was being told to stop. Don't leave home yet. Our daughters asked, "It's been two days, it's been three days, they're waiting for your house." He told us we wanted to go, but we had instructions that we should not leave the house without being told. So after five days, some people left home. Today, even on the sixth day, there are visitors in two or three places, he said.
In one house, 18 people went to interrogate
So far such agencies have investigated several places. But I never heard of those six days. Today is probably not the time to complain about new policies. Let's think about it at the right time. The guests stayed in the middle class family for six days. Your homes are small. There is a two bedroom or three bedroom hall. There were not many people in Kolhapur. 18 people went to the place where the husband and wife live. There is no need to comment on the space to sit at home, to use the rest of the tools. I had never seen anything like this, it had never happened. He also said that seeing the abuse of power, the real picture came to light.
Record for raiding the same house five times
The central government is abusing some of the mechanisms. Whether it is CBI Income Tax, ED or NCB, all these agencies are being used politically. To give some examples, the former Home Minister of Maharashtra. Anil Deshmukh was accused by the then Commissioner of Police. I had come and met. He alleged. Deshmukh resigned due to the atmosphere created by that. It is unknown at this time what he will do after leaving the post. It has never happened before that a responsible officer indiscriminately accuses a responsible person. Deshmukh took a stand. Now a series of allegations have been leveled against the accused. Deshmukh stepped aside and these gentlemen have disappeared. Deshmukh is under investigation. Yesterday was the fifth raid on their home. It must be admitted that he went to the same house five times and raided it. "It's time to dump her and move on," she said.
Union Home Minister should resign
He also commented on the Lakhmipur incident. Some sort of thing happened in the country. Farmers in Uttar Pradesh were attacked. There was straightforward information regarding Lakhimpur. Got to see through the media. At the crowd of farmers, some people come out of the car and crush them. It killed three to four people. There was also a journalist in it. This has never happened before. After this incident, some of the farmers said that the Union Home Minister was alive. But they were rejected. It demanded action. But the UP government did not respond to him. The home minister's son was arrested six or seven days after the Supreme Court responded. This is what the Minister of State for Home Affairs was saying. Chiranjeeva had to be arrested by the government of his party. Because evidence was found about him. He also demanded that the Union Home Minister should resign.
VIDEO : MahaFast News 100 | Mahafast News 100 | 13 October 2021https://t.co/KYmAFqKHOY#mahafast100news #100news #MarathiBatmya

— TV9 Marathi (@TV9Marathi) October 13, 2021
Related news:
Deshmukh's house raided five times by the investigating agency, Sharad Pawar's brutal attack
It is always good to remember being in power for five years, no matter how deep the pain; Pawar slammed Fadnavis
Memories of Maval firing from Fadnavis, now Pawar has made the facts of Maval!
(sharad pawar attacks bjp over IT raids in family companies)