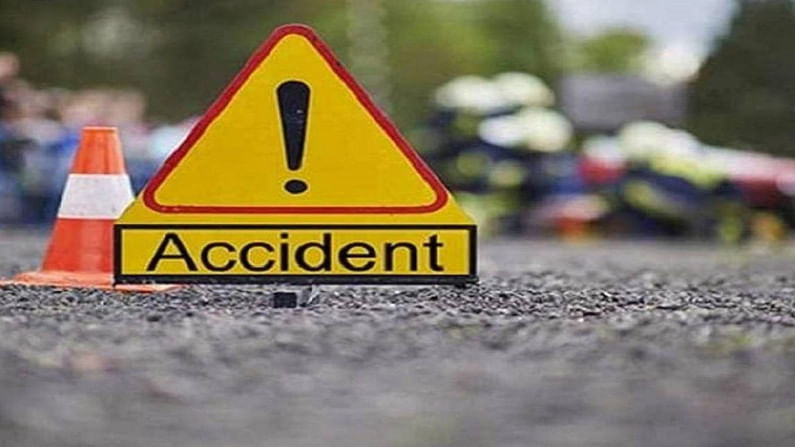 Bhardhav bus hits two-wheeler in Ambernath
Ambernath: The incident took place in Ambernath when a Bhardhaw bus flew a two-wheeler and flew 10 to 15 feet. The young man on the bike was seriously injured in the accident. The incident took place on Wednesday night in front of a Reliance petrol pump between Ambernath and Ulhasnagar. Mangesh Pawar, a resident of Chikhloli Pada area of ​​Ambernath, was riding his two-wheeler from Ambernath towards Vitthalwadi with his wife Dhanashree. This time the bus coming from behind hit his two-wheeler hard. (Bus hit to two wheeler in ambernath; youth maijored injured)
The young man's condition is serious due to the accident
When the Pawar couple's two-wheeler approached the Reliance petrol pump between Ambernath and Ulhasnagar, they slowed down due to a pothole on the road. This time, a speeding bus hit them. Not only that, but it took them 10 to 15 feet long. Mangesh Pawar sustained head, face and chest injuries in the accident and also sustained internal injuries in his abdomen. Fortunately, his wife was not harmed. His car was literally smashed in the accident.
The bus driver absconded after the accident
The bus driver fled the scene after the accident. The people gathered there picked up Mangesh and took him to the government central hospital in Ulhasnagar. However, the doctor advised him to be taken to Mumbai as his condition was serious. He was later admitted to Maxilife, a private hospital in Ulhasnagar. Mangesh is in critical condition and is being treated by doctors. Mangesh's wife Dhanashree has demanded strict action against the bus driver after the accident.
Many accidents due to potholes
Meanwhile, a large pit has been dug at the spot where the accident took place for several days and this pit has caused many accidents in this place till date. In addition, the street lights are also closed on this road, so we can see an increase in the number of accidents. Therefore, besides taking action against negligent drivers, it is also being demanded to repair this road.
Dira's daughter-in-law beaten in Ulhasnagar
An incident has taken place in Ulhasnagar where Dira beat up his daughter-in-law on suspicion of handing over a handcart to the municipality. The video of the beating has gone viral on social media. The name of the victim is Chandumal Raheja and the name of the victim is Anjali Raheja. Following the incident, Anjali has been admitted to the Government Central Hospital in Ulhasnagar for treatment. Ulhasnagar police have arrested Chandumal Raheja and Dinesh Raheja on a complaint lodged by Anjali. (Bus hit to two wheeler in ambernath; youth maijored injured)
In-laws attack son-in-law, commit suicide by setting house on fire, shocking type in Badlapur https://t.co/7EuEmv1sRP#Crime #Suicide #CrimeNews

— TV9 Marathi (@TV9Marathi) October 13, 2021
Other news
Stomach child crosses father's head, bloodied father suffers death, tragic incident in Sangli
Massacre in Yavatmal due to domination dispute, murder of two, handcuffing of six accused