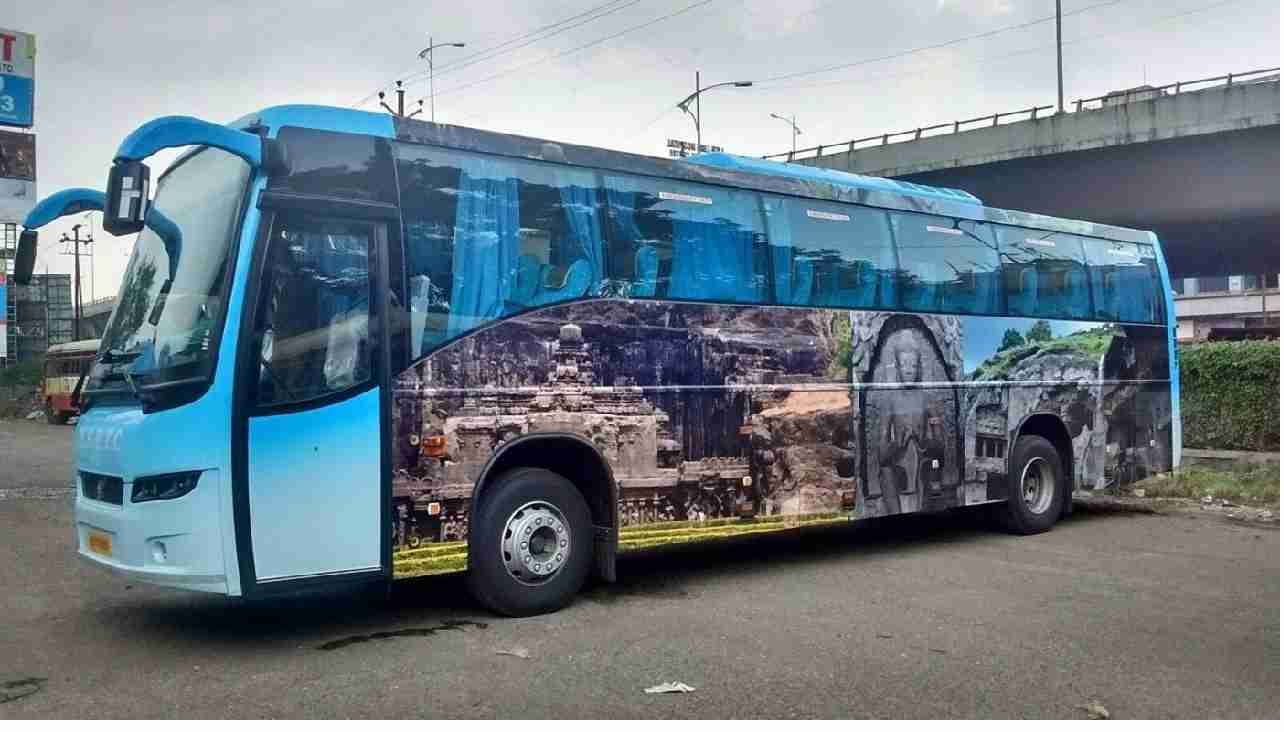 AC Volvo bus service to Ajanta-Eluru canceled.
Aurangabad: To transport tourists to the world famous Ajanta and Ellora Caves (Anintha-Verul Tourist) as well as to facilitate tourism there, both the state-of-the-art air-conditioned tourist buses run by ST Corporation for the world famous Ajanta and Ellora Caves have started serving tourists from October 14. The bus service in Aurangabad had been shut down for the last one and a half years due to corona. But now that the incidence of corona has decreased, the service has been resumed. These two buses have 45 seats and the AC bus will also be able to carry foreign tourists. Through this bus ST Corporation can get good income.
Bus time and passenger fare
The Eluru bus departs from the central bus stand at 8.30 am. The AC bus for Ajanta Caves leaves at 8.15 am. The fare from Aurangabad-Ellora is Rs 275 while the bus fare from Aurangabad-Ajanta is Rs 695.
Ambitious facilities in terms of tourism
The city of Aurangabad attracts a large number of domestic and foreign tourists. Therefore, air-conditioned buses should be available for them to reach Ajanta and Ellora. For this purpose, a special fund of about Rs. 1 crore 80 lakh was given to the ST Corporation from the District Planning Board. Two air-conditioned buses were procured from this fund. Both these tourist buses running from the central bus stand were getting good response from the tourists. However, due to the outbreak of corona, these buses had to be stopped. These buses were plying on Pune route. The tourist spots in the city have started over the last few days. But the tourist bus was waiting to start. Finally, from Thursday, both these buses will run once again for tourists. Also, buses for Mahismal are being released from the central bus stand on the occasion of Navratri. The AC bus will also allow foreign tourists to travel on it. Through this bus ST Corporation can get good income.
Online booking of any bus
The bus can also be booked from some mobile apps including ST Corporation's website. Therefore, the journey will be easier if the passengers prefer to book online instead of coming directly to the bus stand and getting a ticket. AC buses running for Ellora and Ajanta can also be booked online. Passengers can book tickets in advance from the websites public.msrtcors.com, www.msrtc.gov.in.
Other news-
Survey of hawkers in Aurangabad city started, Municipal Corporation will implement hawkers zone policy