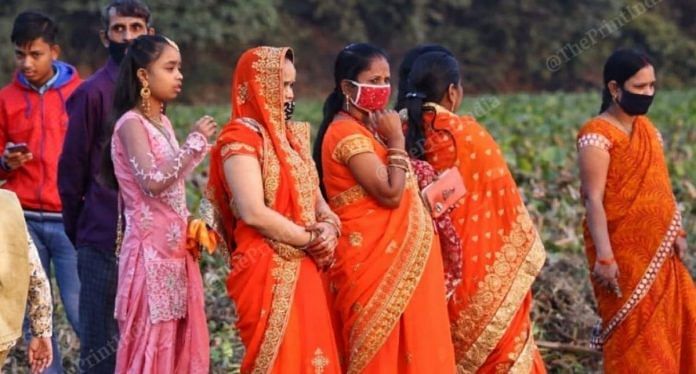 Text Size:


New Delhi: The Narendra Modi government has ruled out the possibility of issuing separate guidelines for Chhath Puja, as requested by the Delhi government, according to ThePrint. The government has said that Kovid-19 advisories are already in place.
A source in the Union Health Ministry said, "Standard Operating Procedures (SOPs) are in place for Kovid-19. Kovid guidelines are already present in the states in some form or the other. According to their needs, the states are implementing those guidelines again. So there is no point in issuing fresh SOP for Chhath.
The source further said, 'There should be no politics in this. Together we are fighting the Kovid-19. COVID is not over yet, and we all need to do our bit.
Last month, the Delhi Disaster Management Authority (DDMA)—which is headed by the Lieutenant Governor of Delhi, and has representatives from the UT government—banned the celebration of Chhath Puja in water bodies and other public places due to the pandemic.
The move was criticized by the Delhi BJP and Manoj Tiwari, former president and MP of the party's Delhi unit, also demonstrated against these directions.
Good journalism matters, even more so in times of crisis
ThePrint brings you the stories you should read, from where they're happening
We can only keep this going if you support us with our reporting, writing and photos.
subscribe now
Delhi Deputy Chief Minister Manish Sisodia, in a letter to Union Health Minister Mansukh Mandaviya, urged that in consultation with health experts, separate guidelines should be issued for celebrating Chhath Puja. He said that the situation of Kovid in Delhi is now under control.
According to the latest update of Kovid released on Wednesday, in the last 24 hours, 31 cases of Kovid have been registered in Delhi, 58 patients have been cured, and no deaths have been reported. There are 338 active cases of Kovid in the national capital.
---
Read also: Delhi government employees who did not get vaccinated, prohibited from coming to office from October 16: DDMA
---
100 crore vaccinations
According to health ministry sources, it is expected that by October 18-19, India will cross the 100 crore vaccination figure. Earlier, the government was expecting this target to be achieved by October 10-12.
A source said that once this target is reached, to celebrate the achievement, the Ministry of Health, in association with COVID warriors, health workers, and frontline workers, will organize different events across the country.
Sources further said that this month, 6 million doses of Zykov-D vaccine will also hit the market.
Meanwhile, over 280 million vaccine doses will also be available in October – including 220 million CovShield and 60 million Covaccine doses. In the month of September, a total of 18.74 crore doses of the vaccine were administered.
But, the source said that the government would consider exporting the vaccines only after assessing the additional production.
The ministry source said, 'Vaccine export is not our priority at present. First we want to make sure that everyone gets vaccinated. We will assess additional production in the fourth quarter, after which a decision on vaccine exports will be taken.
(Click here to read this news in English.)
---
Read also: Expert panel recommends vaccination to children in emergency, children between 2-18 years will be vaccinated
---
Good journalism matters, even more so in times of crisis
Why the news media is in crisis and how can you handle it
You are reading this because you value good, intelligent and fair journalism. We thank you for this belief.
You also know that an unprecedented crisis has arisen in front of the news media. You will also be aware of the news of heavy salary cuts and layoffs in the media. There are many reasons behind the collapse of the media. But a big reason is that good readers are not understanding the right value of good journalism.
There is no dearth of qualified reporters in our newsroom. We have one of the best editing and fact checking teams in the country, as well as a team of renowned news photographers and video journalists. It is our endeavor to make India's best news platform. We are working hard in this effort.
ThePrint believes in good journalists. Gives right salary for their hard work. And you must have seen that we do not hesitate to spend as much as we can to get our journalists to the story. All this costs a lot. There is only one way for us to continue this good quality journalism – enlightened readers like you to read this with a little heart and a small wallet.
If you feel that we deserve your support for a fair, independent, courageous and questionable journalism, click on the link below. Your love will decide the future of ThePrint.
Shekhar Gupta
Founder and Editor-in-Chief
subscribe now