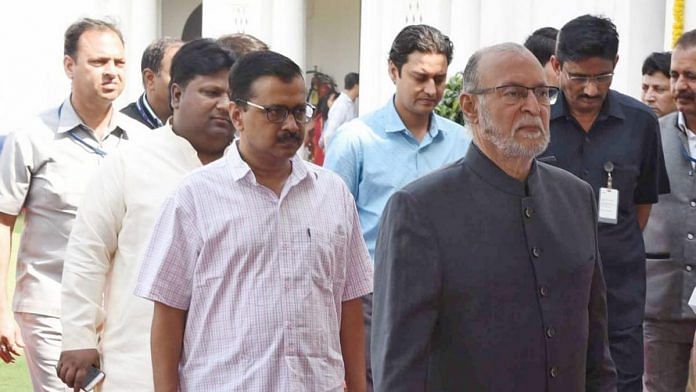 Text Size:


New Delhi: Chief Minister Arvind Kejriwal on Thursday wrote to Lieutenant Governor Anil Baijal requesting him to allow Chhath Puja celebrations and said the situation arising out of Kovid-19 in Delhi is under control.
He requested Baijal to convene a meeting of Delhi Disaster Management Authority (DDMA) at the earliest to allow Chhath celebrations.
The DDMA, in its order on September 30, had banned the holding of Chhath programs in public places, including river banks, reservoirs and temples, in view of the threat posed by Kovid-19, which led to protests by the Delhi BJP.
Kejriwal said that the situation of Kovid in Delhi is under control for the last three months and he believes that according to the Kovid rules, the celebration of Chhath should be allowed.
He said that Uttar Pradesh, Haryana and Rajasthan and other states have given permission to celebrate Chhath festival with appropriate restrictions.
Good journalism matters, even more so in times of crisis
ThePrint brings you the stories you should read, from where they're happening
We can only keep this going if you support us with our reporting, writing and photos.
subscribe now
---
And: 'Kovid is not over' – Modi government refuses to issue separate guidelines for Chhath Puja in Delhi
---
Good journalism matters, even more so in times of crisis
Why the news media is in crisis and how can you handle it
You are reading this because you value good, intelligent and fair journalism. We thank you for this belief.
You also know that an unprecedented crisis has arisen in front of the news media. You will also be aware of the news of heavy salary cuts and layoffs in the media. There are many reasons behind the collapse of the media. But a big reason is that good readers are not understanding the right value of good journalism.
There is no dearth of qualified reporters in our newsroom. We have one of the best editing and fact checking teams in the country, as well as a team of renowned news photographers and video journalists. It is our endeavor to make India's best news platform. We are working hard in this effort.
ThePrint believes in good journalists. Gives right salary for their hard work. And you must have seen that we do not hesitate to spend as much as we can to get our journalists to the story. All this costs a lot. There is only one way for us to continue this good quality journalism – enlightened readers like you to read this with a little heart and a small wallet.
If you feel that we deserve your support for a fair, independent, courageous and question-asking journalism, click the link below. Your love will decide the future of ThePrint.
Shekhar Gupta
Founder and Editor-in-Chief
subscribe now