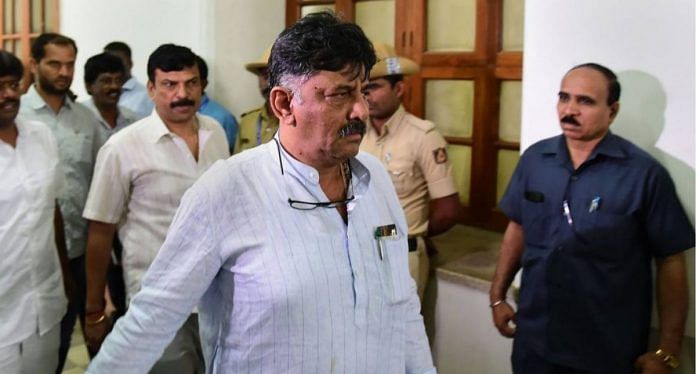 Text Size:


Bengaluru: On Wednesday, the Congress party landed in an embarrassment when two of its leaders were caught on camera criticizing Karnataka Pradesh Congress Committee (KPCC) president DK Shiva Kumar.
In a video that has now gone viral, KPCC media coordinator MA Salim and former Lok Sabha MP VS Uragappa were caught on camera discussing an alleged corruption scam, just before a press conference began. The leaders thought they were whispering to each other, but the microphones of the news channels in front caught their conversation.
Acting immediately, the Congress expelled Salim from the primary membership of the party for six years. Ugrappa has been given a show cause notice, and the party has given him three days to explain his behaviour.
In the one-and-a-half minute clip, Salim can be heard telling Ugrappa about Shiv Kumar and his close associates in the party being involved in an alleged scandal. Salim Ugrappa can be heard whispering in his ear, 'Earlier it used to be 6-8%, but now it has been increased to 11-12%. It seems to be an adjustment of DK.'
Salim can be heard mentioning Uppar from Bangalore, G Shankar from Udupi, and Hanumanthappa from Bellary also being involved. Correcting this Ugrappa says that Uppar is from Vijayapura.
Good journalism matters, even more so in times of crisis
ThePrint brings you the stories you should read, from where they're happening
We can only keep this going if you support us with our reporting, writing and photos.
subscribe now
Salim further says, 'This is a very big scandal. If anyone starts going deep, their name will also come to the fore.
In the video, Salim can also be seen saying that Mulgand, who is an assistant of Shivakumar, has made a profit of Rs 50-100 crore. Salim is reportedly saying, 'If Mulgand has made Rs 50-100 crore, you can imagine how much DK would have made in this way. However, he is a collection agent.
Ugrappa says, 'You don't know but we all demanded strongly, and made him KPCC president, but he is not working at all'.
Both leaders criticize Shivakumar's interactions with the public and the media, and compare him to Siddaramaiah's personality.
The party, and/or the leaders involved, have neither denied nor rejected the video. Ugrappa said, taking the conversation out of context.
Talking to the media shortly after the video went viral, Ugrappa said that a private conversation was taken out of context.
Trying to overcome the situation, the former Lok Sabha MP told reporters, "Salim was only informing me about the allegations that BJP and others are leveling against DK Shivakumar. It was not his personal opinion.
But, as KPCC chief, he did not take back his statement on Shivakumar's performance.
Ugrappa said, 'He is our leader and party president. We have very high expectations from them. Our concern is that they will have to do more work. We hope that Siddaramaiah and DK Shivakumar will work hard day and night to strengthen the party in the next one and a half years. Our conversation was about this'.
Party expels Salim
Within hours of being exposed to difficult circumstances from the video, the party's Disciplinary Action Committee, headed by former Union Minister Rehman Khan, immediately swung into action to control the damage, and expulsion and show-cause orders were issued.
Shivakumar told the media, 'It is definitely a matter of great shame. I will not deny that. The Disciplinary Action Committee of the party will do what it needs to do.
Terming the allegations made in the conversation as "baseless", Shivakumar said, "It was a private conversation, but whatever allegations were made were baseless." I have not done any corrupt work. Those comments had nothing to do with the party or me.
He also drew attention to how former Union Minister Ananth Kumar, and former Chief Minister BS Yediyurappa too, were caught in a similar situation. He was referring to a video of the two leaders from February 2017.
Meanwhile, BJP leaders are exaggerating the video clip criticizing Shivraj.
(Click here to read this news in English.)
Good journalism matters, even more so in times of crisis
Why the news media is in crisis and how can you handle it
You are reading this because you value good, intelligent and fair journalism. We thank you for this belief.
You also know that an unprecedented crisis has arisen in front of the news media. You will also be aware of the news of heavy salary cuts and layoffs in the media. There are many reasons behind the collapse of the media. But a big reason is that good readers are not understanding the right value of good journalism.
There is no dearth of qualified reporters in our newsroom. We have one of the best editing and fact checking teams in the country, as well as a team of renowned news photographers and video journalists. It is our endeavor to make India's best news platform. We are working hard in this effort.
ThePrint believes in good journalists. Gives right salary for their hard work. And you must have seen that we do not hesitate to spend as much as we can to get our journalists to the story. All this costs a lot. There is only one way for us to continue this good quality journalism – enlightened readers like you to read this with a little heart and a small wallet.
If you feel that we deserve your support for a fair, independent, courageous and questionable journalism, click on the link below. Your love will decide the future of ThePrint.
Shekhar Gupta
Founder and Editor-in-Chief
subscribe now