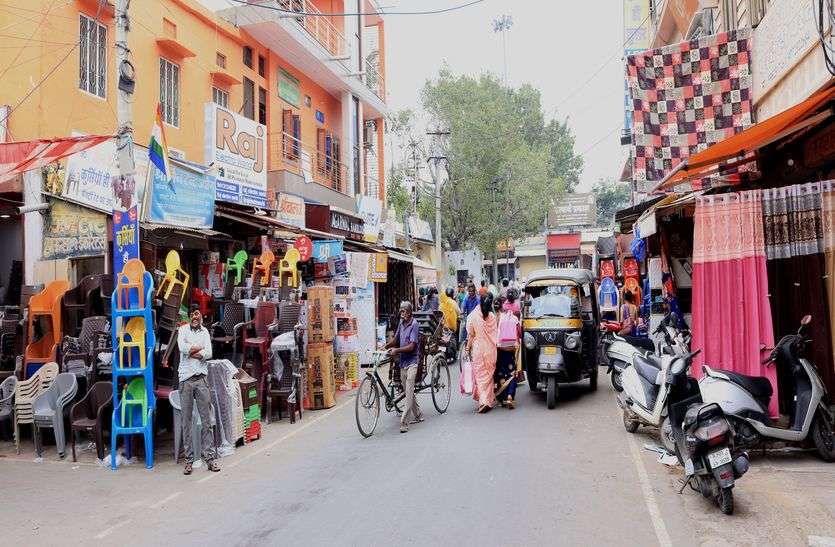 magazine campaign encroachment on footpath
Ajmer.
With the onset of the festive season, the markets have started coming under the grip of trespassers. Due to encroachment, footpaths are not visible in many markets of the city. So there is no place for pedestrians. The surprising thing in this is that all this is happening in front of the traffic police and the police station-police post. Where the market decorated traders are waiting for the customer on the sidewalk.
There is only a distance of 300 meters between Kesarganj roundabout and Bata Tiraha. But in the event of a jam, it takes a sweat to cover the way for a few minutes. This is when the Kesarganj police outpost of the Clock Tower police station here is the naka of the traffic police. During the festive season, the footpath was not left safe from the encroachment of traders on the road. There is no space left for the pedestrians coming to the market to leave and park two wheelers.
…ordered paperwork
On October 11, the then Superintendent of Police Jagdish Chandra Sharma had announced to run a special drive to ease the traffic system in the city. As soon as the SP changed, the traffic police also changed the direction of the campaign. Now traders are waiting for customers by placing goods on the footpath in the city market.
Who is responsible? . .
Who is responsible for the encroachment on the sidewalks of the city roads, that is the big question. While the traffic police talks about maintaining the smooth flow of traffic, the police post deals with maintaining law and order in the area. Similarly, the Municipal Corporation and the district administration are held responsible for making the footpath free from encroachment.
They say…
Efforts are made by the traffic police to keep the traffic orderly. A joint campaign is conducted with the Municipal Corporation and the administration for encroachment on footpaths. If the footpath is being encroached upon, it will be removed.
Parth Sharma, Deputy Superintendent of Police Traffic