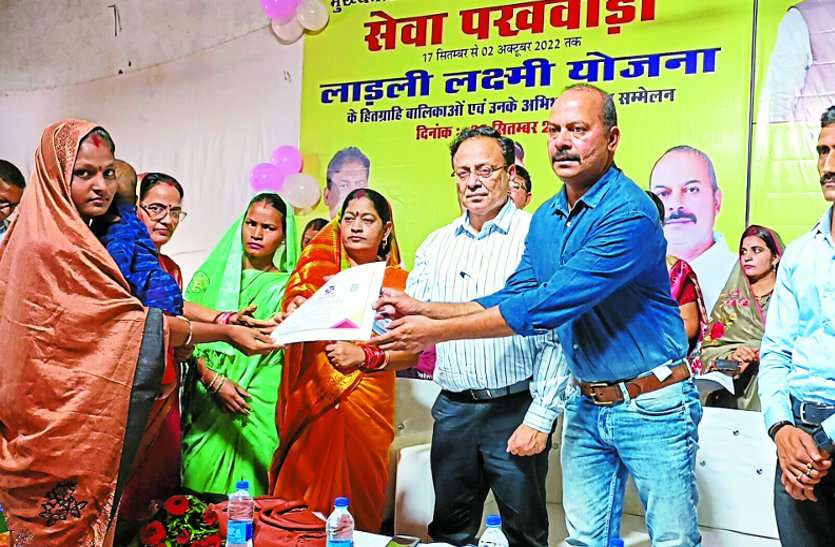 Raisen. Daughters have got respect in the society due to Ladli Laxmi Yojana, they are being considered as a boon. Along with this, the path of education of daughters has also become easier. This was stated by the District Panchayat President Yashwant Meena in the district level conference of the beneficiary girls and their parents of Ladli Laxmi Yojana organized in the forest premises under Seva Pakhwada on Thursday. He said that now a daughter is not considered a burden in the state, but the joy of the birth of a daughter is celebrated. The Chief Minister had implemented Ladli Laxmi Yojna on April 1, 2007 only to keep the foundation stone for a better future by improving the educational and health status of the girl child, positive thinking in the society towards the daughters born in the state. And it is the good fortune of Raisen district that the first Ladli Laxmi of the state was the daughter of Raisen district.
In the program, Municipality President Savita Jamna Sen appealed to the people to educate daughters a lot and said that when the daughters are educated, the whole society will be educated. If the daughter studies, the family will also study and move forward. Collector Arvind Dubey said that Ladli Laxmi Yojana is the scheme of the Madhya Pradesh government, which has contributed significantly in removing gender discrimination in the society. With the advent of this scheme, there has been a lot of change in the thinking of the girl child in the society. Now people do not discriminate between boys and girls. He said that continuous work is being done by the government to connect the girl child with education and employment, to make them strong, capable, capable and self-dependent. There are more than 78500 Ladli Laxmi girls in the district.
Deepak Sankat, District Program Officer, Women and Child Development Department gave detailed information about Ladli Laxmi scheme and event. During this martial arts were performed by the girls of the city. The guests distributed certificates to the beneficiary girls of the scheme. Along with this, the girl students who brought laurels to the district by passing good marks in the board examinations were also honored with certificates. Members of Juvenile Justice Board Sandeep Dubey, Sanjay Gaharwar, Jamna Sen and others were present in the program. In the end, the parents were administered the oath to encourage their dear daughters to pursue higher education and provide them ample opportunities to move forward.
,