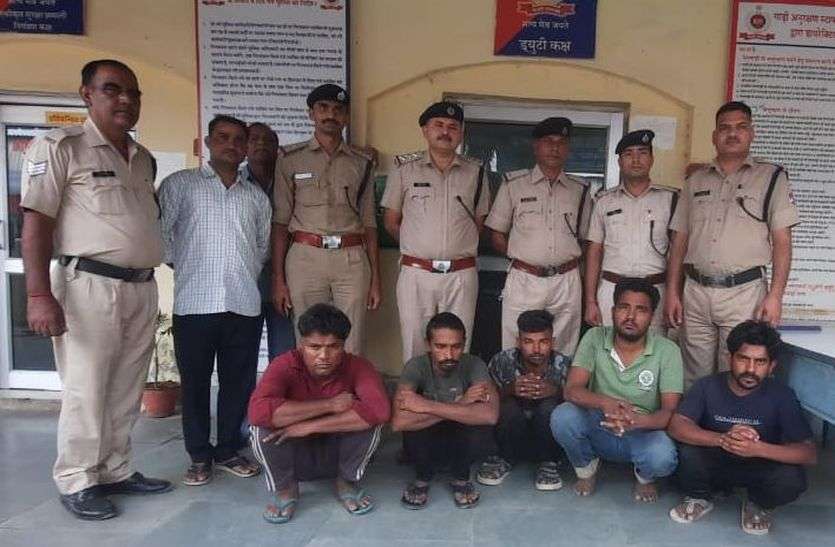 Success: RPF's special team caught the gang, stolen goods recovered
Ajmer. Railway Protection Force busted a gang that stole railway property on Sunday. The force has also nabbed those who had committed theft in the railway premises as well as those who bought stolen goods. The stolen copper wire from the bogie parked in the factory and yard was recovered from them. The accused have confessed to having committed several thefts in the railway premises.
RPF Ajmer police station in-charge Laxman Gaur said that the special team, keeping a watch on the thief gang, identified the suspect on the basis of the information. On October 12, RPF arrested Dinesh alias Dhanesh, a resident of Paharganj, Lalit Tinker, a resident of Thatera Chowk, from the godown of Ganj Trombay station scrap after selling stolen copper wires. During interrogation, he confessed to committing thefts along with Sonu alias Shravan, Kalu alias Dodiya, Bhaurilal alias Nainakia, Padam and Meghraj, residents of Bhagwanganj Sansi Basti. The force arrested the accused and registered a case under Railway Property (Unlawful) Possession Act and Railway Act.
Goods were missing due to lockdown
Gaur said that due to the lockdown, incidents of theft of railway property were being reported near the railway station, carriage factory and workshop. Cases were also registered in this regard. To curb the ever-increasing incidents, a special team of sub-inspector Amit, constable Pradeep, Jitendra, Bhupendra, Pawan Kumar was formed on the orders of the top officials. The team investigated the criminal elements by searching the records. During the investigation, on October 11, the under-frame electrical copper wire was stolen from the bogie parked in the railway yard. All the thefts were carried out between 2 pm and 4 pm.
Drugs, stealing for fun
In the investigation of RPF, it was found to be the gang leader Shravan alias Sonu. The accused used to steal railway property along with his henchmen. After this he used to sell Dinesh and Lalit. The accused used to spend money on drug hobbies and fun by selling railway goods.
stolen goods recovered
Gaur said that in the lockdown, the gang had committed theft of railway properties in the past and have also been caught. During the investigation, it was found that during the lockdown, some of the gang members did not even have the money to run the household expenses. Some are also in debt in the market. In such a situation, he again started selling railway property by stealing it. On his behest, RPF recovered goods worth about Rs 25,000. The accused are being thoroughly investigated.
These acts were executed
On August 31, new RREs were built at Ajmer station. Railway goods from the tower.
On October 10, a copper cable broke the door of the telephone exchange in the railway hospital.
Under frame electrical copper wire from coaches standing in railway yard on 11th October.